We have long-served the New England job market, and have family in Massachusetts, Vermont, New Hampshire and Connecticut. In fact, we relocated  our headquarters to New England in the fall of 2020.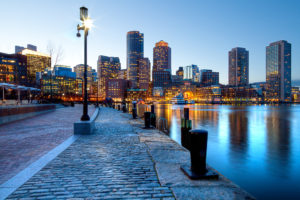 The Boston/New England region has the second-largest concentration of lawyers in the country, with 53.2 lawyers per 10,000 in population. The area is second only to the New York/Washington mid-Atlantic region. There are 43,400 lawyers in Massachusetts alone, placing it 4th per capita in lawyers. Connecticut has 21,300 attorneys, placing it 5th per capita in the U.S.
There are lots and lots of lawyers in New England! But there aren't so many law jobs open.
The number of open law jobs in Massachusetts, both in-house and with law firms, is currently about 900, with approx. 25% paying $100,000 or more per year. The lawyer-to-vacancy ratio is roughly 2%, which means the competition for attorney jobs is strong. If you are doing an attorney job search, you'd best be prepared. The professional resumes, creative job search methods and expert career coaching we provide can help you win a new legal job in New England.
Executives looking for job opportunities, or attorney career changers who are looking for executive jobs, have it better than those looking for straight legal jobs. There are over 4,000 executive jobs in Massachusetts paying $100,000 or more. Much of the action – about 50% — is in the Boston/Cambridge area, with the slowest job market being in Springfield/Western Mass.
________________________________________
According to one survey, Massachusetts is
the #1 market in the country for job growth
________________________________________
The New England States with the brightest economies (measured by unemployment rate, job growth rate, and labor force participation rate) and thus best prospects for job hunters, are New Hampshire, 6th best job economy in the nation, and Massachusetts, with the 9th best job growth projections. Vermont, at number 21, is still in the upper half of State economies, but is only one of five States with a negative growth in the number of jobs.
For the rest of the region, the story is a little brighter. Connecticut, Maine and Rhode Island aren't doing fabulously well, but are at the top of the lower half, with economies rated 28th, 29th and 33rd in the nation, respectively. According to another recent survey, though, Massachusetts rates #1 nationwide as having the best job market, with Vermont #4, New Hampshire #5, Rhode Island #10 and Connecticut #13. It's hard to know who to believe, but both surveys paint a fairly good, if not competitive, job market picture for New England.
For those looking for law firm jobs, the largest firms in Massachusetts are Ropes & Gray with 566 attorneys in the State, Goodwin with 406, and Mintz Levin with 280. Rhode Island's largest law firms are Hinckley Allen with 60 attorneys and Adler Pollock with 53. (Both firms are very partner-heavy so may not be growth plays). Pierce Atwood rounds out Rhode Island's Top 20 largest law firms with 10 attorneys but, like many of the firms in New England, has multiple branches.
For attorney jobs in Maine, the largest firm is Bernstein Shur, which also has a New Hampshire office. Among the largest law firms in Vermont is the 40-attorney firm of Primmer Piper, with two offices in Vermont (Burlington and Montpelier), three in New Hampshire (Manchester, Littleton and Portsmouth) and one in Washington, DC. Bennington-based Barr Sternberg is the largest firm in Southern Vermont.
Major employers in New England cross many industries. The top sectors for jobs are in technology, with companies like Dell and Oracle; financial services, with Fidelity and Liberty Mutual; recreation/leisure concerns, like the Killington and Stratton ski resorts. A very large sector involves consumer products jobs. Many famous brands are headquartered in New England, like Reebok, L.L. Bean, Gillette, Dunkin Donuts and Samuel Adams, among many others.
One of my personal favorites is Ben & Jerry's – the artist who did their package design, Woody Jackson, had a part-time job on my late father-in-law's farm while he was a student at Middlebury College, and those famous cows were quite likely from the Avery Carl farm in down in Bridport.
For attorney career changers, professionals over age 55 or 60, and for those seeking executive jobs in , New England, the region has many smaller, younger companies that can benefit from the legal and business judgment that comes with years of seasoning and experience.
If you are seeking a legal or executive job in New England, want to explore your options, or are a baby boomer looking to launch a second career, and you would like to know how to make it happen quickly and efficiently, call us today or click here to schedule a free initial telephone consultation. https://live.vcita.com/site/bruce.blackwell/online-scheduling?service=d6dc6699