If you have stopped looking forward to going to work each day, or are not fulfilled by your job, it may be time to consider an alternative career, perhaps one leveraging your background but offering new challenges. 
Our clients are bright and accomplished men and women who have the intellectual ability to succeed in many different careers –they are Presidents, Vice-Presidents, CFOs, Executive Directors, Partners and Senior Associates. Others are successful entrepreneurs. We provide them with practical career change ideas and the resources they need to find jobs they love … and still maintain their six-figure incomes.
If you are an executive, attorney or entrepreneur earning $125,000 or more yet dread going to work in the morning, or can't stand it once you're there because the clients are a pain, the work is boring and you haven't had time to see your kids growing up, it may be time for you to consider your career options. We can guide you in that process. Stop reading this page and call us! Right now — there's no better time! It will take less than two minutes for you to schedule a free, confidential telephone discussion that can change your life.
We specialize in high level career change. Many of our clients have spent 12 to 20 or more years in their current fields and don't even know how to begin developing realistic career change ideas. Exploration of realistic career options is our forte.
We work with many clients who are middle-aged professionals with mortgages, kids nearing college age and other encumbrances. They neither want nor can afford a reduction in their compensation.  In our experience (remember, we've been doing this since 1992), our clients have done as well or better economically in their new careers than they were doing in the old careers.
For those considering a career change or looking for career change ideas, we use proprietary processes to identify transferable skills and economically realistic alternative career possibilities. Most lawyers and executives don't know what else they are qualified to do, or "what else is out there." Many don't even know what they want to do next.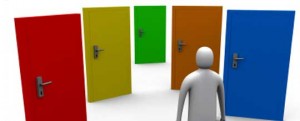 We help them find out and identify their real world career options.
For those who are interested in a top-line survey of what else they may be able to do given their background and skills, we have a series of "Focus" programs that involve from 3 to 6 hours.
For those who are interested in a more comprehensive assessment of their career options, and who are looking for a new job or new career track that provides the rewards, challenges, satisfaction and compensation that they want and deserve, we have the "Personal Success Profile" programs that involve from 6.5 to 12 hours. For more information, call us or email us, and we can arrange a free, very confidential initial discussion.
Your Situation?
Like many people today, you may no longer be deriving satisfaction from your work. You may be good at what you do, even handsomely paid, but you may feel something is missing. Perhaps the work is no longer challenging, or your work life demands aren't leaving time for your personal life.
Many of our clients initially felt "caught" by their jobs — because of their salaries or because they didn't feel qualified to do anything else — but after going through our career testing and assessment process, they discovered that a new professional life is indeed possible, and that there are alternative careers that will be satisfying, fulfilling and lucrative.
We have found there are often viable, lucrative alternative careers for seasoned business and legal professionals. Our purpose is to identify those career options for you, and then to help you transition successfully into a new attorney or executive job.
Our attorney clients span the legal spectrum. Some are partners or associates at firms like Milbank,Tweed and Skadden Arps. Others are solo practitioners in suburban communities. The rest come from the ranks of in-house counsel, public defenders, prosecutors and government agencies.
Our corporate and professional clients include physicians and executives in marketing, finance, operations and human resources. Their industry backgrounds include financial services, healthcare, manufacturing,  technology, media, hotel/travel, and even professional sports, to name a few. Some come from Fortune 500 companies like IBM and AT&T; others come from small companies or are business owners who want to return to corporate life.
Regardless of their backgrounds, our clients share a desire to explore alternative careers that are either far removed from their current professions, or which use their experience but apply it in new and more rewarding ways.
We can help you determine your viable career alternatives and career options, and then our career coaching professionals can provide the resources, information, techniques, job search strategies, life coaching guidance and tools necessary to help you achieve your career objective and land a great new attorney job or executive position.