I love New Jersey and have vacationed there almost every year since I was in third grade. The beaches in Ocean County, Long Beach Island, Atlantic City and up to the Point Pleasant area are among the best anywhere. New Jersey is also a good place to be doing a lawyer or executive job search. We can help you develop a competitive edge in the New Jersey job market through our professional resume writing, personal brand strategies and coaching expertise.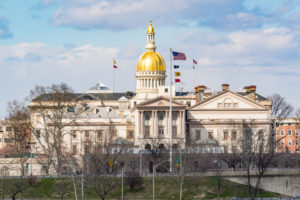 There are as of this writing more than 600 open attorney jobs published and more than 4,300 executive jobs paying $100,000-plus. Estimates are that there will be reasonably healthy job growth in New Jersey through 2024, with the State ranking in the middle of the national averages at #24, just two spots behind New York in job growth. The sectors with the best current growth rate are professional and business services; leisure and hospitality; and education and health services. Manufacturing is also growing.
While there are a fair number of executive jobs and legal jobs in New Jersey, the competition is tough. Because of the low employment rate and high level of opportunity, many job seekers are employed professionals who are looking for new careers or to explore their career options. When times are good – as they are now – there are more people seeking career satisfaction or career development than there are when times are bad. For career changers or those thinking about an alternative legal or executive career, we offer a full range of realistic, practical career options assessment programs to help clients discover their possibilities.
New Jersey ranks #7 nationwide in lawyers per capita, with more than 41,000 members of the Bar. With only 600 lawyer jobs open, whether with law firms or in-house jobs, competition is fierce. To be successful in an attorney job search in New Jersey means you should have a strong marketing plan, outstanding messaging, and use innovative ways to penetrate the hidden job market. We can provide these for you, and more. We have more than 25-plus years of career coaching, career testing and professional resume writing experience.
There are some huge companies headquartered in New Jersey, like Cognizant in Teaneck and Honeywell in Morris Plains, and of course some very large pharmaceutical and consumer products companies like Johnson & Johnson in New Brunswick. Surprisingly, New Jersey ranks 4th in the nation in terms of clean tech venture capital and private equity companies.
Law firms in New Jersey tend to be a little smaller than in New York or Philadelphia, but firms like Cole Schotz in Hackensack, McCarter & English in Newark (and elsewhere), and McElroy, Deutsch in Morristown, are large organizations with opportunities for law firm attorneys and administrative staff.
New Jersey has an aging population, with many of its residents 50+ and 60+. In the last census, the median age for New Jerseyans rose by 2.3 years from the 2000 census, and it is widely expected to rise again in the 2020 census. Some of the credit goes to the baby boom generation which remains the largest age cohort of New Jersey's population. The oldest baby boomers began to reach age 60 in 2006 and these boomers started turning 65 in 2011. In the 2000 census, the median age was above age 40 in only 2 counties. In the 2010 census, the median age was over 40 in 11 counties! There are a lot of baby boomers in New Jersey looking for new jobs or new careers, and we have special programs for this cohort.
If you are seeking to explore alternative careers for lawyers, executive career options, area boomer looking to launch a second career, or are simply doing a lateral legal or executive job search in New Jersey and would like to know more about how we can help you, call us today or click here to schedule a free initial telephone consultation. https://live.vcita.com/site/bruce.blackwell/online-scheduling?service=d6dc6699