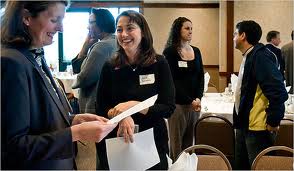 We do recruiting. Some of our best friends are even recruiters! But chances are that none of us can help you.
Recruiters put square pegs in square holes. Hiring companies give recruiters job orders that list age, educational background, and very specific and precise skills and experiences needed.The search firm's job is to search high and low, find candidates who match every aspect of the job specification, vet the candidates carefully, and then send one or two pre-screened people to the hiring manager. For this they will be paid 20-33% of the candidate's first year compensation.  That's a lot of money for a six-figure job. Do the math.
In the legal profession, there are two — only two — primary types of candidates who are of interest to recruiters.  Please pay attention because if you fall into one of these two categories, our recruiting team will want to help you!
The two categories are:
Very Young Lawyers — typically 2nd to 6th year associates, from the top 15% of their class, from top 15 law schools, with major law firm experience. If you were 8th in your class from NYU three years ago, you are probably beating recruiters away with a stick.
Senior Lawyers with Portable Business — If you have clients you can bring with you, to the tune of $175k to $1 million+ in verifiable annual billings (the amount will vary based on location), then you are the stuff of dreams for a legal recruiter. If you can bring in meaningful revenue, then where you went to law school or your rank in class won't matter … unless it is a particularly snooty law firm (and some are).
On the executive recruiting side, typically the search assignments will require direct experience in the job function and in the hiring company's industry. Career changers need not apply. In executive search, the hiring company generally wants to steal an executive from one of its competitors, so the candidate can hit the ground running and the hiring company gets to hurt one of its enemies.
Keep in mind, too, that recruiters handle fewer than 15% of all the jobs that are available. As for attorneys, legal recruiters fill only about 5% of all in-house positions. The bottom line is that while recruiters may be a good resource, they are at best a limited resource for the job hunter.